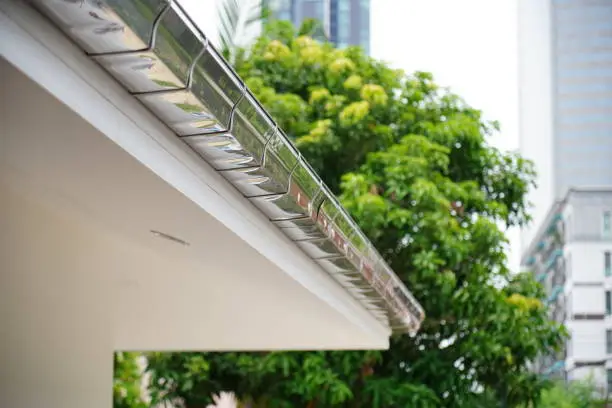 It can be difficult to choose the right gutter for your home. Aluminum rain gutters are an excellent choice. They are durable, weather resistant, and have a clean appearance. They are also relatively affordable.
Gutters can be made from many materials. Many materials can be used to make gutters, including steel, aluminum, and vinyl. Aluminum is the most common material.
Aluminum gutters can be easily installed because they are lightweight. These gutters are durable and can withstand denting better than other materials.
You can choose from a range of aluminum rain gutter colors. They can also be painted. For the best results, make sure you follow the manufacturer's guidelines if you plan to paint your gutters.
Aluminum gutters are very easy to maintain. They are resistant to corrosion. These are an affordable and strong alternative to steel for homeowners. They can withstand harsh environments for up to 20 years.
You can paint aluminum gutters. This is a great way to improve curb appeal on your property. You have the option to paint your gutters bright colors or leave them as they are. A clear acrylic bonding primer can be used. Your gutters will have a smooth, rust-resistant finish thanks to the primer. The primer can be purchased at Home Depot and your local hardware store.
Copper gutters are another option. They are heavier than aluminum but are less susceptible to scratches and dents. They have a distinctive green patina that fades to brown with time. However, they can be quite expensive.
They are cheaper than other materials but they aren't as strong as stainless steel and other metals. If they aren't maintained on a regular schedule, they may be more susceptible to damage than other materials. They can be also difficult to install.
It is crucial to properly install rain gutters. Rain gutters are an integral part of your home and protect your foundation.
Steel
Rain gutters made of stainless steel are durable. They are made from an alloy of steel chromium. They are resistant to corrosive agents and will last for at least 50 years. They can also be polished to shine and have a rustproof finish. These are ideal for homes that are exposed to severe weather.
These are usually painted to match the house's paint. They are usually attached to the roof using hidden or exterior brackets.
Galvanized steel gutters can also be purchased. They are structurally more durable than aluminum gutters. They do not expand under extreme temperatures which can lead to problems. With proper maintenance, they can last for up to 20-50 years.
Steel has one major drawback: the high price. They are often two- to three times more costly than other types. They can also be heavier. They require professional installation. Installation costs will vary depending on where you live and how big your job is.
Steel isn't rustproof. Small rust spots can be difficult to remove if your gutter is not cleaned regularly. You may have to spend more money if you live in an area that is prone to rust.
You will need to install your gutters in sections of ten to twenty feet. The contractor can then use a ladder for clearing out the drains. The contractor will then use a hose to rinse out the drains.
Stainless steel gutters are made to last between fifty and seventy years. Although they are more costly than other types, they are worth every penny. They are durable and rustproof and require very little maintenance. These products can be found at many retailers. These products can be ordered in custom colors.
Steel is a very heavy material, despite its many benefits. You could end up damaging your home if you don't understand what you are doing. It is a good idea to hire professionals to install steel rain gutters.
For more information about Rain Gutters Aliso Viejo and Rain Gutters near me in Aliso Viejo, visit our website at L.I. Metal Systems.